Top Bounce House Safety Tips for Your Kids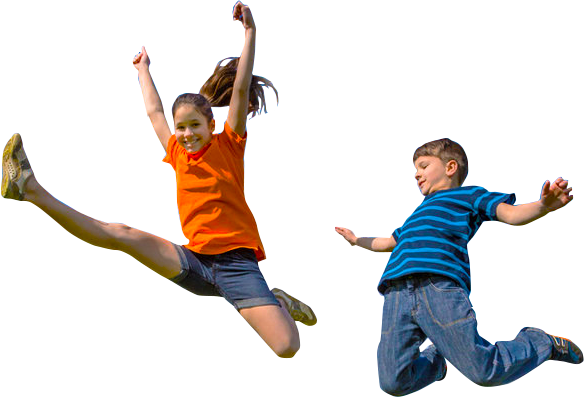 Nothing adds more fun and magic to a kid's party or even to a normal day than a bounce house. Brightly colored blown-up areas where little ones can wear themselves out by jumping around are amazing! They offer a chance for children to exercise and enjoy some fresh air and sunshine while parents and guardians can sit back for a chance to relax for a while. However, one thing that many don't think about in regards to these trampoline-like structures is the fact that kids can still get hurt.
You can get hurt in a bounce house?
Yes, it is a very real possibility that someone could get hurt in any kids bounce house rentals. However, the majority of these injuries came about from improper installation and not supervising children as they bounce around.
Though these small jumpers for rent are great, we at Afford-A-Bounce want to ensure that your bouncers are safe in one of our cheap bounce house rentals. So here is a list of bounce house safety tips to keep everyone involved safe as they have the time of their lives!
Read the waiver thoroughly before signing and read the safety instructions: We also have the safety rules on our website. A copy of our company's waiver with safety rules can be provided upon request at least one day before the event and can be brought by our delivery driver on the day of the event. Safety instructions are either near the entrance of the inflatable, on our website, or on the waiver during the online check-out. You should get a copy emailed or we will be happy to provide a paper copy. This request must be make at least one day before your event date. For customer pick-up, customers will be provided a copy of the safety instructions in our office on the day of the rental pick-up.
Find out injury data: If a certain make and model has your eye, you can either research online or talk to the rental place about data concerning what kinds of injuries children may have suffered because of the product. Also, look into procedures that can assist with keeping little ones safe as they have fun.
Set up in a proper location: Location is always important, so take care to set up your small jumpers for rent in a space clear of limbs overhead and sharp rocks underneath. A soft, grassy area is your ideal location for set up and play.
Remind kids what they cannot bring into the bounce house: Kids need to be reminded of the items they are not allowed to bring in to bounce with them. They should be either barefoot or in socks to begin with. No food or eating ware should enter. Sharp items, such as keys or sticks, should be left outside, so that there are no bouncing "sword fights!"
If no adults are allowed, make sure that no adults are allowed: Kids bounce house rentals do look like a lot of fun, but the majority are made for a certain weight limit. This means that older children and adults may not be supported. Please review your manual to determine who can and can't have fun and enforce those safety rules!
Bounce house safety is our top priority. We want everyone to enjoy their inflatable rentals in Fort Worth. If you need to rent a bounce house in Fort Worth, Afford-A-Bounce is here with quality products to fit your needs. We can assure you that your children will have plenty of fun as you keep them safe.