5 Fun Facts About Bounce House Slide Combo Rentals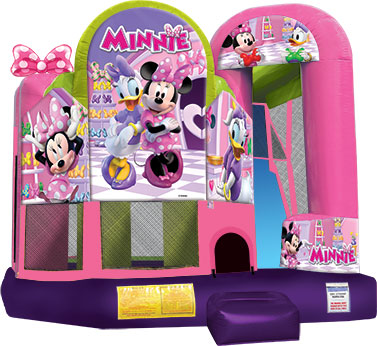 Now is the perfect time to host a party with the unending fun bounce house rentals can offer. These combo bounce house rentals provide tons of fun and they aren't just about bouncing.
The variety found in the combo bounce house is why they are so popular. Not only can you bounce but you can slide, splash, climb, play sports, and have many other kinds of fun on these bounce house combos.
Below are five awesome features of a combo bounce house that you can't find anywhere else.
1. Obstacle Course
Many bounce house rentals have obstacle courses that the children can run and slide through.
The obstacle courses on these Bounce House slide combos give the kids an awesome way to compete with each other. It will also hold their attention for a lot longer than a much simpler bounce house normally would.
These obstacle courses can either be designed with long straightaways where two children can compete at the same time, or they can be built in a circular fashion so that there is technically no end to the fun.
Our Fort Worth bounce house rentals can provide these unique bounce house combos and many others.
2. Water Slides
This super fun bounce house water slide combo can you give your kids a summer birthday party that will be wet and wild. Many of these combo bounce houses can be used for wet slide or dry slide.
The bounce house water slide combo also features bounce houses connected to them which gives the kids a variety of play experiences. Some children can slip and slide while others bounce without having to get wet. Our Dallas bounce house rentals feature this great bounce house water slide combo.
3. Sports
These bounce house slide combos feature super fun sport options for the kids to compete against each other.
Some bounces house slide combos feature long straightaways that end in basketball goal hoops. This way the kids can have a foot race along with a one-on-one basketball challenge that everyone will want to participate in.
Others have large boxing rings where the kids can go head-to-head in fun tournaments. Some combos even have basketball and volleyball combined which doubles the fun.
Our Fort Worth bounce house rentals at Afford-A-Bounce is the perfect place to find these combos.
4. Toddler Combos
These bounce house combos aren't only built for very small children, however, they are built for super ease of use.
If you have very young children or children that want a very easy time while they play in their bounce house, the toddler combos are the perfect solution.
These toddler combos usually have open-air designs so that young children won't be frightened by the enclosed spaces.
The difficulty of the slides and the climbing portions are lowered significantly.
In Addition to all these features, these bounce houses can have themes that are familiar to them such as favorite cartoon characters.
Our Dallas bounce house rentals can provide these super fun toddler combos.
5. Themes
Combo bounce houses offer a huge variety of themes anywhere from your favorite cartoon characters from the Disney, Nickelodeon, Marvel, or DC Comics universes to tropical islands that are sure to dazzle young children.
Typically, bounce houses only have space for mundane castle themes. However, bounce house slide combos can give you more variety in their themes and whole lot more detail. Contact us at Afford-A-Bounce today for more details!