Bounce House Rental Cleaning During COVID-19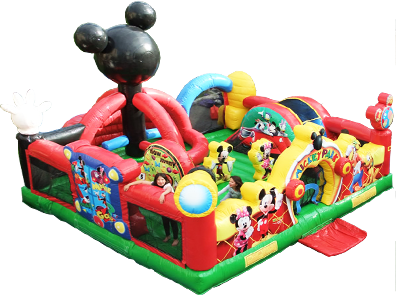 The pandemic has changed the world in many ways. One thing that has not changed is how Afford-a-Bounce continues to provide safe and clean Fort Worth and Dallas County bounce house rentals. As always, our jumper rentals arrive at your location cleaned, sanitized, and ready for fun. To better serve our customers, we have looked to CDC guidance on how long the virus can live on particular surfaces, including vinyl, as well as which cleaners are most effective in killing the virus. We have taken these recommendations and increased our commitment to cleanliness by using bounce house cleaners that are proven to kill the COVID virus. This is one more way Afford-a-Bounce is working to provide safe, affordable fun with our Fort Worth bounce house rentals.
As always, the price of our jumper rentals includes delivery and set-up to your location in our delivery area. Set-up occurs before your event so you can get the full eight hours of rental time to enjoy your jumper rental. Thorough bounce house cleaning occurs before delivery, and we disinfect the bounce houses at our warehouse during cleaning between every rental. In this way, we can make sure each rental is completely clean and ready to go when your event begins. A link to our contract and safety rules is included with your receipt, and our office is available to assist you with any questions or concerns you may have. We are happy to explain our bounce house cleaning and sanitizing processes with you so you can be assured our jumper rentals are safe as well as fun. If this is a concern for you, please don't hesitate to ask!
Many things have changed in our lives, yet some things have stayed the same. Inflatables remain a fun and popular activity that can be used alongside social distancing, mask wearing, and good hand hygiene to enhance your parties, events, or gatherings. In order to continue to provide this fun option, our bounce house cleaning has been adapted to reflect our new normal. This includes bounce house cleaners that kill COVID but don't damage the inflatables. Moreover, our goal at Afford-a-Bounce remains the same now as it was before the pandemic: to provide clean, attractive, and safe inflatables for your party rental needs. We still offer all your favorite characters, and reservations can be made online with a credit card deposit. We deliver within our three service areas, and pick up is always available for basic bounce houses and combo units. Just choose your date and browse through our online catalog to begin planning your event with inflatables from Afford-a-Bounce.
We have always held our company to high standards, and Afford-a-Bounce takes your health and safety seriously. We have set our standards of cleanliness even higher due to the pandemic. We are committed to providing inflatables that are safe, clean, and meet the unique needs of your event. We are ready to once again bring smiles to your family, friends, and guests and look forward to supplying you with inflatables and bounce houses at your next party, activity, or event.