9 Reasons Why Bounce Houses Are Perfect for Your Child's Birthday Party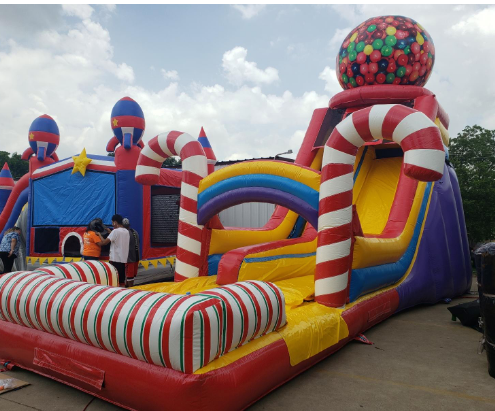 When it comes to children's birthday parties, the goal is simple: to make the day as fun and memorable as possible. What better way to make it more enjoyable than with a bounce house? 
These inflatable wonders offer endless entertainment and benefits. Read on and learn how a bounce house can make your kid's birthday extra special.
Encourages Physical Activity
Children these days spend more time on their electronic gadgets than engaging in outdoor activities. A bounce house enables kids to burn off some energy in an enjoyable way. 
Jumping, bouncing, climbing and crawling inside a bounce house can help children enhance their coordination, balance, motor skills and cardiovascular health. At most birthday parties, kids will have cake, pizza and sugary drinks, so they'll have a lot of energy to release.
Whether it's a classic bounce house, inflatable slide or an obstacle course, the kids will be having a blast that they won't even realize they're exercising!
Allows Kids To Socialize and Connect
A bounce house can provide an environment for kids to interact with their peers and develop social skills. They can learn how to communicate, share, take turns and cooperate. 
Besides having fun, playing in an inflatable castle enables kids to make new friends and develop teamwork and problem-solving skills. They can develop empathy and respect for others when they take turns, share toys and resolve conflicts. Additionally, playing in a group can help kids develop a sense of belonging, improving their confidence.
Creates a Fun, Inclusive and Relaxed Environment
Everyone loves bounce houses, so there's less chance of anyone feeling isolated or left out. Once a kid sees a bounce house, they are compelled to get in and start jumping.
Selecting teams and starting conversations can be scary for some children, especially if they don't know the other kids well. Bounce houses can help break the ice and alleviate kids' awkwardness in social situations. They provide a fun and relaxed environment where children can naturally interact with each other. Even introverted children can feel comfortable participating! At the end of the day, the kids' friendships may extend beyond the bounce house itself.
Encourages Creativity and Imagination
Bounce houses are ideal environments for imaginative play, encouraging physical activity and creativity.
According to the American Academy of Pediatrics report, playtime is crucial to helping children be creative and healthy. It helps kids manage stress and develop curiosity, facilitating memory and learning.
Kids can exercise their imagination in a bounce house by inventing games. They can design their own obstacle courses, create new challenges such as crawling through tunnels or jumping over barriers and figure out ways to make games more exciting.
Offers Safe and Supervised Fun
Bounce houses offer a secure and worry-free environment for children to have fun. Many bounce houses with slides are equipped with safety features such as mesh windows and safety nets that lower the risk of falls or injuries. Likewise, their inflatable structure provides a cushioned environment where kids can safely play.
Your bounce house rental company should also provide instructions on how to safely set up and use the bounce house to keep everyone safe.
Comes in a Variety of Themes and Sizes
Cheap bounce house rentals offer bounce houses in a wide range of themes, designs and sizes. From inflatable jungles to princess castles and sports arenas with wet and dry slides, there is a bounce house theme for everyone. You'll quickly find one that fits your child's interests and your available space. 
Bounce houses are also available in various sizes, so you can easily pick one based on the expected number of guests.
Creates a One-of-a-Kind Party Experience
Bounce houses are an instant hit! Renting a bounce house with a slide will keep kids entertained for hours. It's also perfect for parties with larger groups as they can accommodate multiple children simultaneously. 
Bounce houses can make any birthday party unforgettable for all. Your kid's party will be the talk of the town for weeks!
Easy To Set Up
We know party planning can be a hassle, especially for busy parents, but setting up a bounce house is a breeze! 
Most affordable bounce house rental companies will provide you with all the gear you need to set it up properly. However, at Afford-A-Bounce, we arrive one to three hours before your rental time begins to inflate and set up the jump unit. We take care of the setup so you can sit back, relax and enjoy the party!
Great Value for Your Money
Birthday parties can cost money, but bounce houses are a cost-effective way to make the day more memorable. Renting one provides hours of non-stop fun for kids and is cheaper than other party entertainment choices.
Additionally, many cheap bounce house rentals offer packages with other party supplies like tables, chairs and tents, giving you more bang for your buck. 
What To Do Before Renting an Inflatable Castle
Consider Venue and Placement
When choosing a location for your bounce house, ensure ample space around it for extra safety. It can only be placed on flat surfaces free of debris or stones. Most affordable bounce house rental companies set up the unit on grass, asphalt and concrete. 
Be Mindful of the Unit's Size and Capacity
Overloading the bounce house can lead to collisions and structural damage. Selecting the right size will reduce the risk of accidents and logistical problems.
Determine Electrical Accessibility
If an electrical source is not readily available, it may be impossible to inflate the bounce house. Figure out your electrical needs in advance to avoid any hiccups on the day of the party. 
Also note that most parks do not have electricity, so a generator or heavy-duty extension cord may be necessary.
Plan the Perfect Birthday Party With Afford-a-Bounce!
At Afford-A-Bounce, we take the stress out of party planning. Choose from our wide range of clean, safe and affordable bounce house rentals. Our catalog includes inflatable slides, water slides, concessions, chairs and tables.
If you're looking for an inflatable party rental in the Greater Fort Worth area, don't hesitate to contact us today.