Why Should I Hire a Party Rental Company?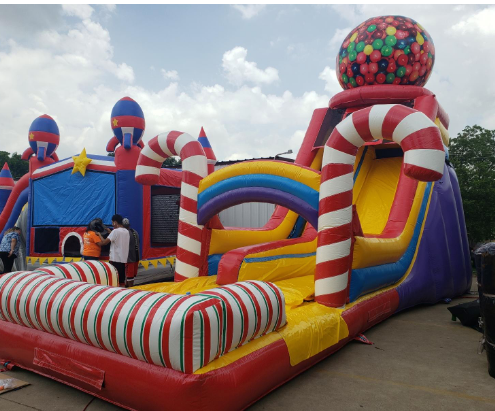 Throwing a fantastic birthday party for a child or a holiday party is the goal of many parents in hopes that it will create long-lasting and happy memories. And one of the first things parents think of are bounce house rentals. Hiring a party rental company is a great option for a successful, smooth, and stress-free birthday or holiday party.
Here are some of the reasons you should hire a party rental business for your next event.
Time for Set Up
Setting up bounce house rentals, also known as jumper rentals, takes a bit of time to set up and takedown. Depending on the size of the bouncy house itself and the location where it will be set up, it can take up to an hour, if not longer, to set up. Let alone have to pick up the necessary equipment for the jumper rentals and lug it all to your home. Hours of prepping and missing the time with the family—a time that cannot be taken back.
Options Available
When you hire a party rental company, you'll have a broader range of bounce house options to choose from that are not just limited to birthday party themes. You could choose from different themed bounce houses in addition to the traditional bounce houses.
Party rental companies like Afford-A-Bounce have multiple locations, so finding one near you can be easier than you think. For example, our company offers Dallas County bounce houses and Fort Worth bounce houses in Texas. If you are not within our delivery area we have the option of customer pick-up on bounce houses, most combos, games, and small obstacle courses. Afford-a-Bounce will load and unload the items in your truck or trailer. Inflatables come with the blower, stakes or sandbags, tarp, and extension cord. All you need is a working designated electrical outlet within 70 ft of the set-up site and a few strong helpers.
Joy!
When hiring a party rental company, it's easy to see the happiness going around. The host will still be seen as a marvelous party planner by their guests, and all the children will have so much fun that it will create lasting memories. In short, it will be a fun event for everyone involved.
By the end of the day, the fact of the matter is that life is too short. Trying "to do it all and be it all" is not always the best thing. Hiring a rental company to come and set up and break down the bounce house may not seem like a dramatic deal when it is.
There is a lot of preparation that is going into planning and throwing a party. From the types of food and what the entertainment would be to what kind of dishes will be used and how the mess would be cleaned up, so much goes into throwing a party—hiring help when one can make life so much easier. By leaving the hardest work to the professionals, you can take the stress and hassle off your shoulders.
If you're interested in the party rentals available at Afford-A-Bounce, reach out to us today!