Fun-Filled Ideas for an Exciting Outdoor Kids Birthday Party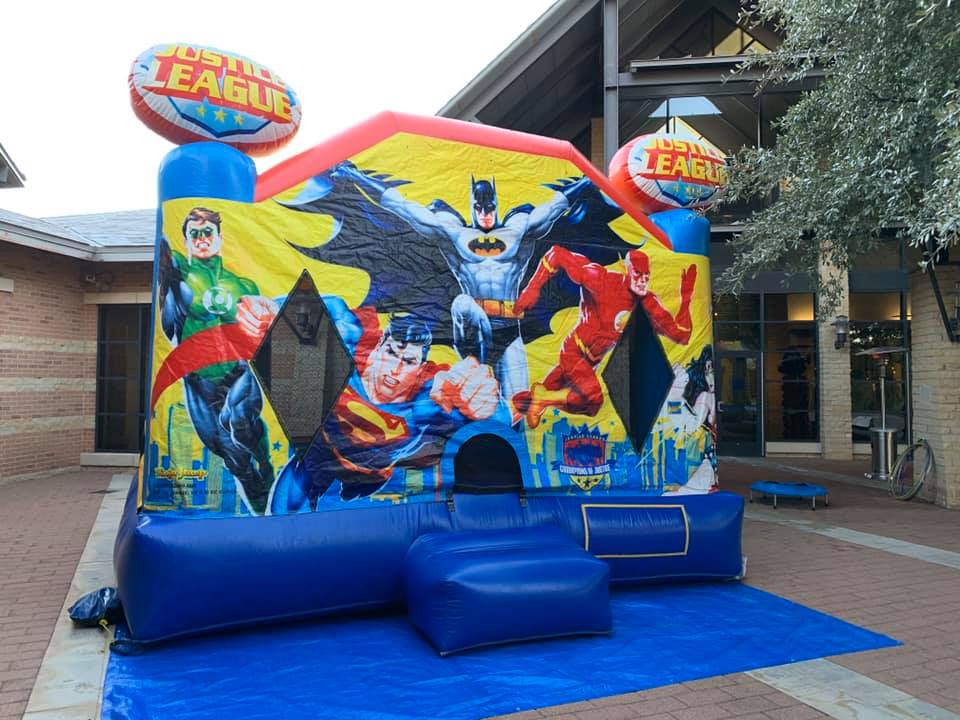 The great outdoors provides a boundless playground where kids can run, play and explore to their hearts' content. For this reason, nothing quite matches the excitement and joy of an outdoor party when celebrating your child's birthday. Whether the event is in a park, beach or even your backyard, the outdoor setting provides a refreshing and visually pleasing atmosphere as nature's sights, sounds and smells enhance the overall experience to create a memorable occasion. 
Below, we'll guide you through fun-filled ideas to create an exciting event for your little one. You'll find everything you need to know in planning every aspect of the party to ensure a day filled with laughter, adventure and cherished memories.
Let's dive into the world of outdoor birthday parties where imagination knows no bounds!
Idea #1: Fun Bounce Houses
A bounce house is an inflatable structure designed for children to play inside. They come in various sizes, shapes and themes, ranging from simple designs to elaborate forms with multiple features. Bounce houses are popular attractions at children's parties, carnivals, fairs and other outdoor events since they offer a fun and active way for kids to burn off energy and socialize with their peers. 
Where To Find Affordable Bounce House Rentals
Finding affordable bounce house rentals can be a fun and cost-effective way to add excitement to your outdoor kids' birthday party. If you are searching for bounce house rentals in Fort Worth, you can start by looking for local party rental companies in the area. Check their websites or call them to inquire about pricing, availability and any package deals they may offer.
In your quest to find affordable bounce house rentals, it's essential to consider the age and number of children who will be attending the event. Some bounce houses are specifically designed for younger children, while others can accommodate older ones. In addition, make sure that the bounce house rentals in Fort Worth you hire follow safety guidelines.
Idea #2: Adventure Treasure Hunt
An adventure treasure hunt is an interactive activity where participants embark on a quest to find hidden treasures by following a series of clues or solving puzzles. It's a fantastic way to create an unforgettable, mystery-filled experience for your young guests.
Here's how you can organize an adventure treasure hunt that will have the kids eagerly playing:
Select a theme:

The hunt's theme should be aligned with your child's interests. Whether it's pirates, superheroes, princesses or a favorite storybook, the theme will set the stage for the activity.

Create a storyline:

Develop a captivating storyline to guide the treasure hunt. It could be a quest to find a lost artifact, rescue a kidnapped princess or solve a mystery.

Hide clues and treasures:

Prepare a series of clues that lead the children from one location to the next. Then, hide them strategically in the outdoor space, making sure they are accessible and not too difficult for the age group participating.

Set the stage:

Enhance the experience by decorating the outdoor space to match the treasure hunt theme. Decorations will help the children feel fully immersed in the adventure.

Give rewards:

Prepare a special treasure or a goody bag filled with treats and small prizes for the successful hunters. This gives a sense of achievement when they finally discover the hidden treasure.
IMPORTANT!
Remember to consider the age group and adapt the difficulty level of the treasure hunt accordingly. Younger children may require more straightforward clues and shorter distances, while older kids can handle more challenging riddles and longer adventures.
Idea #3: Water Fun Extravaganza
If you're hosting an outdoor kids' birthday party during the warmer months, there's no better way to beat the heat than with a water-fun extravaganza. Here are some fantastic ideas to try out:
Slip and Slide
A classic slip-and-slide consists of a long, water-spraying mat that allows children to slide across its slippery surface. For an extra twist, incorporate inflatable obstacles or tunnels to add excitement. You can also include bounce houses in the games to make them more challenging. Dallas bounce house rentals often have packages for water-themed birthday setups.
Water Balloon Games
Water balloon games are a surefire way to create laughter and friendly competition. Organize games like water balloon toss, water balloon dodgeball or water balloon piñata. Fill up a bunch of balloons beforehand and let the kids go wild.
Sprinkler Dance Party
Set up sprinklers in your backyard to create a dance party under refreshing water jets. Kids can show off their moves, run through the sprinklers or just enjoy the cool mist. Don't forget to put on upbeat music to enhance the party atmosphere and create a fun and energetic ambiance.
Water-Themed Crafts
Take a break from the splashing and provide a designated craft area where children can engage in water-themed art activities. Set up tables with materials for making watercolor paintings, creating seashell necklaces or designing their water-themed T-shirts. This allows for a creative outlet and a chance to relax between water activities.
Idea #4: Carnival Extravaganza
A carnival-themed party creates a vibrant and festive atmosphere that immediately puts everyone in a celebratory mood. Whether someone prefers playing games, bouncing in a bounce house, enjoying live performances or simply indulging in carnival treats, there's something for everyone to enjoy. 
So step right up and experience the excitement of a carnival extravaganza right in your own backyard by following these ideas:
Put up colorful decorations:

Transform your outdoor space into a vibrant carnival setting with colorful banners, streamers, balloons and signs. Set up booths and stalls reminiscent of a classic carnival, and don't forget to include a designated area for the main attraction – the bounce houses!

Bounce house bonanza:

Bounce houses are a must-have for a carnival-themed party. Set up multiple bounce houses in various sizes and designs to accommodate different age groups. From traditional bounce houses to inflatable obstacle courses and slides, affordable bounce house rentals will provide endless fun and excitement for the little ones.

Classic carnival games:

 Set up game booths with games like ring toss, bean bag toss, duck pond or knockdown cans. Then, provide prizes for participants, and remember to give out tickets that can be redeemed for special treats or small toys.

Delicious treats:

No carnival is complete without tasty treats! Set up a snack area with carnival favorites like popcorn, cotton candy, snow cones and hot dogs. You can also rent a popcorn or cotton candy machine to give the party an authentic carnival feel.
Create Magical Memories with Afford A Bounce
Hosting an outdoor kids' birthday party is a fantastic way to create an exciting celebration. So take advantage of the great outdoors and create fun-filled memories for your child.
Ready to make your outdoor kids' birthday party a blast? Start by exploring bounce house rentals in Fort Worth, and contact a reliable company like Afford a Bounce. Whether you're looking for traditional bounce houses, inflatable slides or obstacle courses, we can provide the perfect inflatable for your celebration. 
Check out our Dallas bounce house rentals today to bring extra fun and excitement to your kid's special day.